Introducing the BW Icon & Icon+
Posted on September 22nd, 2020 by Brianna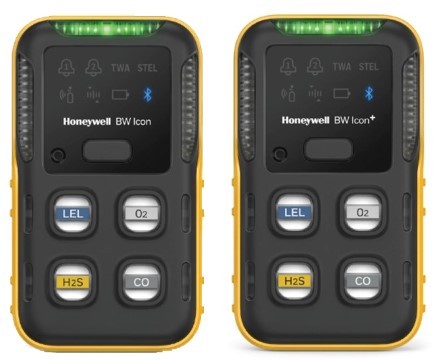 The Simplest Way to Prioritize Safety.
Honeywell BW Icon is a fixed-life, two-year, four-gas detector for the gas hazards that workers face most often. That means you can turn it on and activate two years of protection, with no need for sensor or battery replacement — and no hidden costs.
Honeywell BW Icon+ delivers an icon-based experience in a serviceable package including a 3-year warranty. It enables you to maximize the lifespan of your 4-gas detectors, optimize the long-term cost of ownership, and select from multiple gas sensors for flexible applications.
The first multi-gas detector with an icon display — for fast decisions. Honeywell BW Icon and Icon+ is named for its display of simple icons for gas levels and device status. That means no live gas readings for workers to interpret and no time-consuming training. Instead, when there is a gas alarm, the bell icon on the display will illuminate, along with an indicator next to the sensor in alarm, so workers can quickly clear the area.
Battery runtime on a 4.5-hour charge is on average 2 months which could be extended to 4 months if the detector is turned off at the end of each shift. There is no daily charging causing unexpected downtimes.
The low-power infrared LEL sensor is immune to silicone poisoning which means accurate monitoring of combustibles. Additionally, the 1-series sensors respond to dangerous gas levels in seconds even when in harsh temperatures and environments. The detector simultaneously monitors the four gases that workers face most often, including Oxygen (O2), Hydrogen Sulphide (H2S), Combustible gases (LEL), and your choice of either Carbon Monoxide (CO) or Sulphur Dioxide (SO2).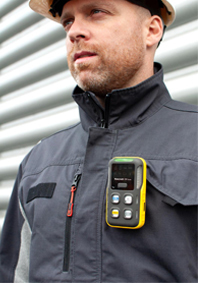 Easy-to-understand icons illuminate when notifying the user. In addition to the two-alarm bells, other icons included are TWA (time-weighted average), STEL (short-term exposure limit), bump test due, calibration due, battery status, and Bluetooth connectivity.
With BLE coming standard in every monitor, all reports and analyses are viewable from a smartphone. Simply download the Honeywell Safety Suite Device Configurator app and pair your smart device via Bluetooth. In the app, organized reports, alarm data, and current gas levels are all able to be viewed at the touch of your fingertips.
The BW Icon and Icon+